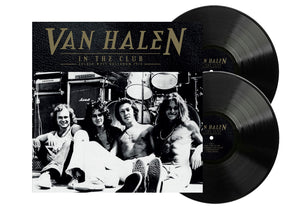 Van Halen In The Club (2 LP)
DELUXE VINYL EDITION!!!
Formed in Pasadena, CA in 1972, between 1974 and 1985 Van Halen had a consistent lineup featuring lead guitarist Eddie Van Halen, vocalist David Lee Roth, drummer Alex Van Halen, and bassist Michael Anthony. Van Halen, of course, became a major rock act, and by the early 1980s they were one of the most successful bands ever. 1984, released on Warner Bros on 9th January that year, was their most successful album, with its lead single 'Jump' becoming an international hit which reached number one on the Billboard Hot 100. But Halen weren't always such a successful collective of musicians. Indeed, their roots were humble, and for the first six years of their existence they remained release-free, a situation that was only redressed in 1978 upon the issuing of their self-titled debut. The three shows featured on this fascinating Double LP come from their early years, when the group was still playing the clubs and high schools of LA. Recorded for FM broadcast at The Golden West Ballroom and The Starwood Club in 1976, and including too a couple of numbers from La Cañada High School in November 1975, these rare recordings will undoubtedly take pride of place in every decent Halen collection across the world.
Released: 05/01/2020
Genre: Heavy Metal
Format: Vinyl