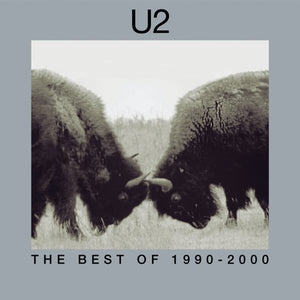 U2 The Best Of 1990-2000 (180 Gram Vinyl) (2 Lp's)
U2: The Edge (vocals, guitar, keyboards); Bono (vocals, guitar); Adam Clayton (bass); Larry Mullen (drums, percussion).
Producers include: Steve Lillywhite, Brian Eno, Daniel Lanois, William Orbit, U2.
Recorded between 1990 & 2000.
The decade of the 1990's was an era of transition for the legendary quartet from Dublin known to the world as U2. An earlier (and more serious) body of work gave way to albums such as POP and ZOOROPA, which radiated the band's positivity and energy in a more lighthearted fashion. THE BEST OF 1990-2000 culls the benchmark tracks from the band's studio albums ("One," "The First Time," "Beautiful Day"), as well as key movie soundtrack cuts ("Hold Me, Thrill Me, Kiss Me, Kill Me," "Miss Sarajevo").
While some diehards cooled their passion for the band in the height of their glitz and glamour, experiencing "Stay (Faraway, So Close)" shows the band stripped down to perfection in their most basic and graceful state. THE BEST OF goes even further, luring collectors with new tracks ("Electrical Storm," "The Hands That Built America") as well as new mixes of "Numb" and "Discotheque."
Genre: Rock
Rock & Pop: Rock
Format: Vinyl
RSD Release Date: DDD
Released: 09/28/2018