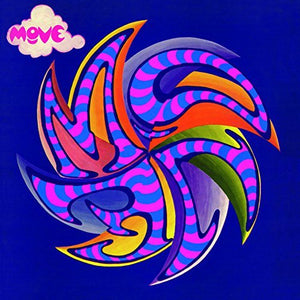 The Move Move (Mono)
This 1998 reissue contains 15 bonus tracks not on the original release.
All tracks have been digitally remastered.
The Move's self-titled first album capped an 18-month string of classic singles, all included on this greatly expanded and lovingly remastered reissue. Formed in Birmingham in the mid-'60s, the Move quickly became one of England's most interesting, and at times controversial, bands. While its onstage antics and publicity stunts garnered it much press attention, the band's often-brilliant music was sometimes lost in the shuffle. Leader Roy Wood's uncanny ability to meld classical, cabaret, psychedelic, and '50s rock influences with a Beatlesque knack for catchy pop songs results in such psych-pop classics as "Flowers in the Rain," "I Can Hear the Grass Grow," the "Eleanor Rigby"-like "Mist on a Monday Morning," and the rest of this essential 19-song collection. Even an oddity like a whacked-out cover of "Zing! Went the Strings of My Heart," with sepulchral vocals by drummer Bev Bevan is a delight. THE MOVE is an indispensable '60s pop album.
Genre: Rock
Rock & Pop: Rock
Format: Vinyl
Released: 7/18/2016
RSD Release Date: DDD