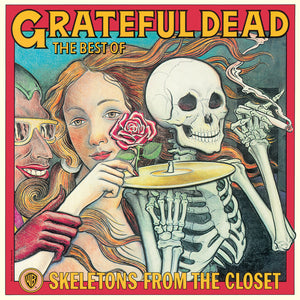 The Grateful Dead Skeletons From The Closet: Best Of The Grateful Dead (SYEOR Exclusive2019)
Grateful Dead: Jerry Garcia (vocals, guitar, pedal steel guitar, piano); Phil Lesh (vocals, guitar, piano, bass); Bob Weir (vocals, guitar); Ron "Pig Pen" McKernan (vocals, harmonica); Bill Kreutzmann (drums); Micky Hart (percussion).
Digitally remastered by Joe Gastwirt using the Sonic Solution NoNoise System.
This pleasant collection of songs assembled in 1974 is subtitled "The Best of," which is a somewhat amusing notion to hardcore fans for several reasons. First, the Grateful Dead created an extensive song repertoire, and singling out any 11 cuts is an exercise in arbitrary selection. Second, the Dead were a live band, and only two songs from SKELETONS FROM THE CLOSET are culled from concert recordings--"One More Saturday Night" and "Turn on Your Love Light." Lastly, this album rests on the considerable strength of six of the Grateful Dead's most recognized songs--"Truckin'," "Casey Jones," "Friend of the Devil," "Uncle John's Band," "Sugar Magnolia" and "St. Stephen"--songs that intermediate and beginner fans will insist upon owning, but that serious Deadheads will consider too obvious. Still, if one will only own one Grateful Dead CD, SKELETONS FROM THE CLOSET is a tidy way to go.
Genre: Rock and Pop
Rock & Pop: Rock
Format: Vinyl
RSD Release Date: DDD
Released: 01/25/2019