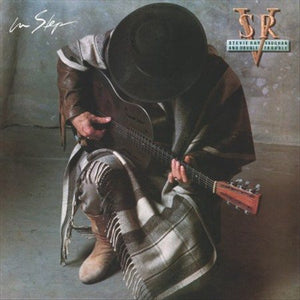 Stevie Ray Vaughan In Step
This 1999 reissue contains five bonus tracks not on the original release.
Personnel: Stevie Ray Vaughan (vocals, guitar); Reese Wynans (keyboards); Tommy Shannon (bass); Chris Layton (drums, percussion).
Texacali Horns: Joe Sublett, Darrell Leonard.
Producers: Jim Gaines, Stevie Ray Vaughan, Double Trouble.
Reissue producer: Bob Irwin.
Recorded at Kiva Studios, Memphis, Tennessee; Sound Castle and Summa Studios, Los Angeles, California. Live tracks recorded in Denver, Colorado on November 29, 1989. Originally released on Epic (45024). Includes liner notes by Bill Milkowski.
Digitally remastered by Vic Anesini (Sony Music Studios, New York, New York).
The irony of 1989's IN STEP lay in the fact that after rebounding from a terrible drug problem, Stevie Ray Vaughan had his new lease on life cut short by a helicopter crash the following year. The record itself features some of Vaughan's most inspired playing and Double Trouble has rarely sounded better. Songs such as "Crossfire," "Wall Of Denial" and "Tightrope" alluded to Vaughan's personal problems with just the right amount of optimism and scathing guitar thrown in for good measure. Blues influences abound whether it's a rollicking cover of Willie Dixon's "Let Me Love You Baby," a smoldering reading of Buddy Guy's "Leave My Girl Alone" or an upbeat take on Howlin' Wolf's "Love Me Darlin'."
For all his skill as an interpreter of other people's songs, Stevie Ray Vaughan's originals are just as solid. Of particular note here are the instrumentals "Travis Walk" and "Riviera Paradise." Paced by Chris Layton's militaristic time-keeping, the former finds Vaughan trading solos with Reese Wynan's pounding piano. The latter is a number that dates back to 1980 and shimmers with the same kind of gentle aura found in some of Carlos Santana's more introspective playing.
Released: 6/20/2016
Format: Vinyl
Genre: Blues
RSD Release Date: DDD