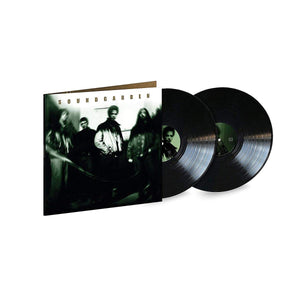 Soundgarden A-Sides [2 LP]
Soundgarden: Chris Cornell (vocals, guitar); Kim Thayil (guitar); Ben Shepherd, Hiro Yamamoto (bass); Matt Cameron (drums, percussion).
Producers include: Soundgarden, Drew Canulette, Terry Date, Michael Beinhorn.
Engineers: Jack Endino, Crew Canulette, Lance Limbocker, Terry Date, Jason Corsaro, Adam Kasper.
Includes liner notes by Jonathan Poneman.
Ten years after crawling from the muck and mire of the Seattle grunge scene, Soundgarden's farewell compilation hits all the high points of an impressive career. Nirvana may have taken grunge public, but Soundgarden got there first. Starting with the grinding of SCREAMING LIFE's "Nothing To Say," A-SIDES demonstrates the band's evolution from muscular musical brutes to a unit whose might was tailored by an innovative use of hooks and melodicism.
This collection finds them journeying all over the musical map, utilizing a more percussive assault ("Spoonman"), delving into the depths of psychedelia ("Black Hole Sun"), and even bringing their trademark aggressive style to the decidedly un-rock mandolin on "Ty Cobb," a song the Ramones might have written had they grown up in Kentucky instead of Queens. A-SIDES stands to prove that throughout their career, Soundgarden remained fervently ambitious in their musical endeavours.
Genre: Alternative
Rock & Pop: Rock
Format: Vinyl
RSD Release Date: DDD
Grunge: Grunge
Released: 08/31/18