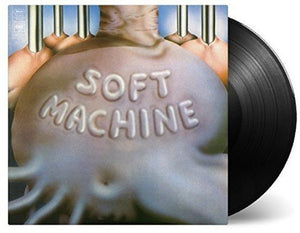 Soft Machine Six
Soft Machine: Karl Jenkins (oboe, soprano & baritone saxophones, piano, electric piano); Mike Ratledge (piano, electric piano, celeste, organ); Hugh Hopper (bass); John Marshall (drums, percussion).
SIX was the last album Hugh Hopper made with Soft Machine. The mysterious low-end excursion "1983" is the only number he wrote this time out (Hopper's first solo release, 1984, is highly recommended). Founding member and keyboardist Mike Ratledge contributes the beautiful "Chloe and the Pirates" as well as four other tracks.
The Soft Machine heard on SIX is rounded out with drummer John Marshall, who first appeared on FIVE after the departure of Robert Wyatt. The newcomer on board, reed and piano player Karl Jenkins, steps in to fill the vacancy created by Elton Dean's departure. With the exceptions of the aforementioned tunes, the band leaves behind its more cerebral hijinks to explore straight-ahead jazz-rock fusion. This lengthy set (over 75 minutes) was originally released in 1973 as a double album.
Genre: Pop
Released: 5/23/2016
Rock & Pop: Pop
Format: Vinyl