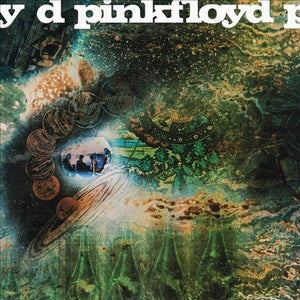 Pink Floyd A SAUCERFUL OF SECRETS (2016 VERSION)
Pink Floyd: Syd Barrett, David Gilmour (vocals, guitar); Roger Waters (vocals, bass); Richard Wright (keyboards); Nick Mason (drums).
Recorded at EMI Studios, London, England.
Pink Floyd's second album is a hesitant transition from the baroque acid whimsy of PIPER AT THE GATES OF DAWN into the futuristic space rock the group would refine through DARK SIDE OF THE MOON. Recorded as Syd Barrett was messily leaving the band (Barrett contributes one track, the cacophonous "Jugband Blues," though rumors persist that he plays on at least a couple of others), the album finds the remaining members, including new guitarist Dave Gilmour, exploring their new roles in public.
Keyboardist Richard Wright contributes two lovely, pastoral tracks, "Remember a Day" and "See Saw," that echo Barrett's familiar childlike whimsy, while bassist Roger Waters's contributions, along with the band-composed 12-minute title track, map out the pulsating throb and lengthy instrumental sections that would soon become Floyd's sonic trademark. Another key track is the satiric "Corporal Clegg," Waters' first exploration of antiwar themes.
Genre: Rock
Released: 06/03/2016
RSD Release Date: n/a
Rock & Pop: Pop
Format: Vinyl