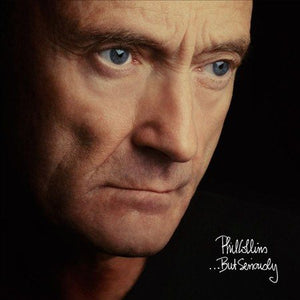 Phil Collins BUT SERIOUSLY
Personnel: Phil Collins (vocals, keyboards, drums, tambourine); David Crosby (vocals); Daryl Stuermer, Dominic Miller, Eric Clapton (guitar); Steve Winwood (Hammond organ); Nathan East, Lelan Sklar, Pino Palladino (bass); Alex Brown, Marva King, Lynn Fiddmont (background vocals).
Phoenix Horns: Don Myrick (saxophone); Harry Kim, Rhomlee Michael Davis (trumpet); Louis Satterfield (trombone).
Recorded at the Farm, Surrey, England and A&M Studios, Los Angeles, California.
Phil Collins' fourth solo album, 1989's BUT SERIOUSLY, is the first solo release by the Genesis drummer after 1985's NO JACKET REQUIRED, the album which catapulted this oddly charming guy into a multimedia superstar with a budding film and television career. As the title hints, BUT SERIOUSLY is a mature, thoughtful album, less giddy than the hit machine that was NO JACKET REQUIRED, and with a newfound sense of social commentary on songs like "Something Happened on the Way to Heaven" and the anti-homelessness single "Another Day in Paradise."
What saves BUT SERIOUSLY from incipient earnestness is Collins' usual sense of diffident offhandedness, and his typically fine sense of pop songcraft. While BUT SERIOUSLY was not the worldbeater its predecessor was, it's a more satisfying and long-lasting album.
Genre: Rock
RSD Release Date: n/a
Rock & Pop: Rock
Released: 06/10/2016
Format: Vinyl