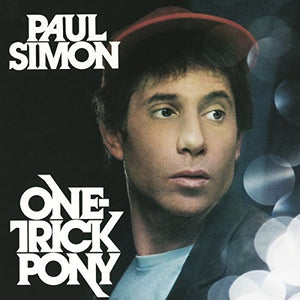 Paul Simon One Trick Pony
The 1980 film ONE TRICK PONY starred and featured the music of Paul Simon, who portrayed a singer-songwriter of considerably less renown than himself. Full of heart, humor and realism, it's one of the best music-oriented dramas extant, and this soundtrack album is equally substantial. ONE TRICK PONY marked an important turning point in Simon's artistic development. Though his musical sophistication had grown, previous to this album his lyrical approach was still oriented towards the linear storytelling style he began with in the '60s. Here, Simon began to develop a more poetic, imagistic approach to lyric-writing.
While the salsa horn section of the hit "Late In The Evening" foreshadows Simon's later cultural experiments, it's tracks like "Jonah" and "Oh, Marion" that really tell of things to come. In the former, Simon plumbs the biblical metaphor, skillfully interspersing it with more autobiographical-sounding details. On the latter, he uses metaphysical, slightly surreal imagery to tell the story of a man at odds with his own emotions. Both tunes are representative of the great literary leap Simon's writing took with ONE TRICK PONY, an album full of inventively constructed lyrics matched with Simon's usual harmonic sophistication.
Genre: Pop
Rock & Pop: Pop
Format: Vinyl
RSD Release Date: DDD
Released: 08/31/18