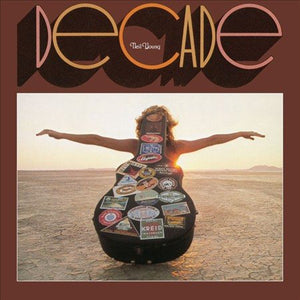 Neil Young DECADE
3 LPs on 2 CDs, recorded between 1966 and 1976.
Personnel includes: Neil Young (vocals, guitar); Buffalo Springfield, Crosby, Stills, Nash, Crazy Horse.
Compilation producers: Neil Young, Tim Mulligan, David Briggs.
Covering the years between 1966-1976, DECADE is a solid overview that shows off the many sides of the always iconoclastic Neil Young. Starting with Young's work in Buffalo Springfield, some of the nuggets include the psychedelic calliope that is "Down To The Wire" and the fuzz guitar/Motown-inspired "Mr. Soul." Throughout these ten years of recordings, Young constantly dug deep, touching on controversial topics be it his CSN&Y masterpiece about the student massacre at Kent State ("Ohio"), compositions dealing with the ups and downs of the drug culture ("Needle And The Damage Done," "Tonight's The Night") or history's dark chapters of racial injustice ("Cortez The Killer," "Southern Man").
Neil Young's choice of accompanists also allowed him to explore many different avenues. Crazy Horse provided the sonic wallop that bore such fruit as "Like A Hurricane," whereas The Stray Gators provided the springboard for more countrycentric numbers like "Heart Of Gold" and "Harvest." Other welcome inclusions are "Star Of Bethlehem" and "Deep Forbidden Lake," from HOMEGROWN, the unreleased sequel to HARVEST. The solid material on this compilation and accompanying liner notes by Neil Young make this an essential part of any record collection.
Genre: Pop
RSD Release Date: n/a
Released: 06/23/2017
Rock & Pop: Pop
Format: Vinyl