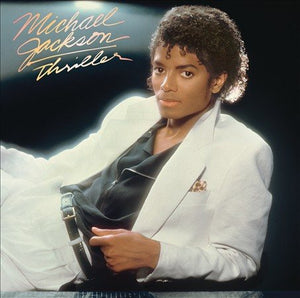 Michael Jackson Thriller
Personnel includes: Michael Jackson (vocals, percussion); Paul McCartney (vocals); Vincent Price (spoken vocals); Steve Lukather (guitar, bass); Eddie Van Halen, Dean Parks, Paul Jackson (guitar); Larry Williams (flute, saxophone); Jerry Hey (trumpet, flugelhorn); Bill Reichenbach (trombone); David Paich (piano, synthesizer); Greg Phillinganes (Fender Rhodes piano, synthesizer, programming); Steve Porcaro (synthesizer, programming); David Foster, Rod Temperton (synthesizer); Tom Bahler (Synclavier); Louis Johnson (bass); Ndugu Chancler, Jeff Porcaro (drums); Paulinho Da Costa (percussion); Brian Banks (programming); LaToya Jackson, Julia Waters, Maxine Waters, Oren Waters, Becky Lopez, Janet Jackson (background vocals).
Principally recorded at Westlake Audio, Los Angeles, California.
The finest example of perfect disco pop, and a record that should be prescribed to musical snobs and manic depressives. The album is a true ambassador of what pop music can be. Jackson whoops and dances through a suite of unforgettable melodies that should be danced to with a smile on your face. Each track offers at least one musical hook, whether it is the beauty of 'Human Nature' (who can resist the 'dada dada da da da') or the 'whoo whoo' of 'Billie Jean'. It's all too good.
Best Sellers: Top50
RSD Release Date: n/a
Released: 05/06/2016
Format: Vinyl
Genre: R&B