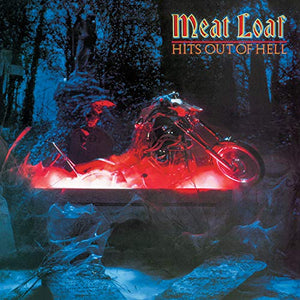 Meat Loaf Hits Out Of Hell
Personnel includes: Meat Loaf, Ellen Foley (vocals); Phil Rizzuto (spoken vocals).
Producers include: Todd Rundgren, Meat Loaf, Jim Steinman, Jimmy Iovine, Tom Dowd.
Digitally remastered by Bruce Miller.
By 1984, it appeared as though Meat Loaf's career was over in the U.S. Though he'd had a mammoth hit album just a few years prior (1978's BAT OUT OF HELL), Meat Loaf cut ties with songwriter/lyricist Jim Steinman by 1984, and despite continuing popularity overseas, the larger-than-life singer was having a hard time cutting it back home. The same year, Epic issued the first Meat Loaf "best-of" set, HITS OUT OF HELL, hoping that it would rekindle interest. The 10-track overview is a fine one, including tracks from all three of Meat Loaf's albums on Epic released up to that point - the aforementioned BAT, as well as 1981's DEAD RINGER and 1983's MIDNIGHT AT THE LOST & FOUND. While future collections would cover more ground career-wise (namely 1998's THE VERY BEST OF), HITS OUT OF HELL contains many a Meat classic. The epic "Bat Out of Hell," melodic ballad "Two Out of Three Ain't Bad," the Springsteen-ish "You Took the Words Right Out of My Mouth," and the Cher duet "Dead Ringer for Love" are all here. Nobody would have guessed at the time that another greatest-hits disc would be necessary a decade down the road to incorporate Meat Loaf's unexpected comeback with BAT OUT OF HELL II.
Genre: Rock
Rock & Pop: Rock
Released: 03/08/2019
Format: Vinyl
RSD Release Date: DDD