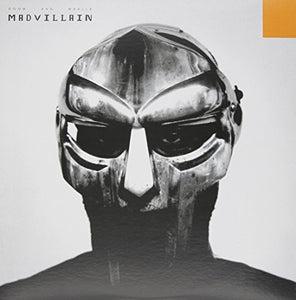 Madvillain Madvillainy
Madvillain: Madlib, MF Doom.
Additional personnel includes: Lord Quas, M.E.D., Wildchild, Viktor Vaughn, Stacy Epps.
Two years in the making, and combining two of the best underground hip-hop artists of the early 2000s, this collaboration between MF Doom and Madlib has been appropriately dubbed MADVILLAINY. With both men known for their stunning soundscapes, rhyming skills, and schizophrenic personalities, the duo decided to have Madlib concentrate on the beats and let Doom handle the lyrics.
In mixing their comic-book-like personas, Madlib and Doom play to their nearly superhuman strengths; while some other collaborations of this caliber seems forced and lop-sided, there is absolutely no filler here--just undiluted beats and rhymes, best exemplified by the singles "America's Most Blunted" and "All Caps." Lib's inventive production leans towards the jazzy side of his repertoire, and Doom unleashes outrageous lyrics on par with his solo efforts (and even his work as Zevlove X in his stint with K.M.D.). Never flashy or glamorous, MADVILLAINY is served straight up, the way hip-hop was meant to be.
Genre: Pop
RSD Release Date: n/a
Rock & Pop: Pop
Released: 11/08/2011
Format: Vinyl