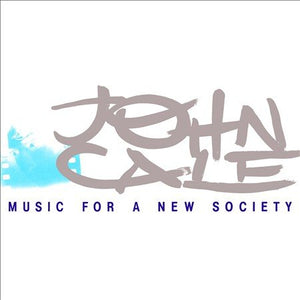 John Cale MUSIC FOR A NEW SOCIETY
Personnel: John Cale (vocals, guitar, keyboards); Rise Cale (vocals); Alan Lanier, D.J. Young, David Lichtenstein, John Wonderling, Mike McLintock, Pipe Major Tom Fitzgibbon, Robert Elk.
Recorded at Skyline Studios, New York, New York.
This 1982 release is one of the most understated, quietly compelling works in John Cale's large and diverse catalog. His knack for bracing arrangement juxtapositions is heard to great effect here. "Taking Your Life in Your Hands" is a keyboard-based composition, with a skittering acoustic slide guitar dancing around the song's chordal structure. "Thoughtless Kind" weds boldly modernist elements--percussive sound effects, multiple voices, complicated mix patterns--to a song of simple poetic strengths. Similarly, "Sanities" is awash in dramatic flourish, but on a near-whispered scale. Cale revisits his own "(I Keep a) Close Watch," casting it in prayerful and heartfelt solemnity, as he sings at his most plaintive over rich piano chords that are underscored by a rhythm section at each chorus. John Cale is a multifaceted composer and performer. This set offers a superlative view of him as an inventive and emotive songwriter, arranger, singer, and musician.
Genre: Pop
RSD Release Date: n/a
Released: 01/22/2016
Rock & Pop: Pop
Format: Vinyl