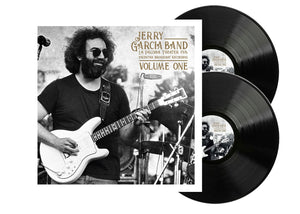 Jerry Garcia Band La Paloma Theater, Encinitas, CA -February 21st 1976 Vol.1 (Limited Edition, 2 LP)
OVERVIEW
DELUXE DOUBLE VINYL EDITION!!!
La Paloma Theater Vol.1
SUPERB BROADCAST RECORDING FROM THE JGB IN 1976
Formed in 1975, the Jerry Garcia Band remained the most important side project of its esteemed leader through the remainder of the great man's life. Despite the group only making very sporadic recordings - their first album Cats Under The Stars wasn't released until 1978 and remained the only studio LP by the group – they toured regularly, particularly during Grateful Dead downtime. The line-up of JGB was a regularly changing phenomena, although by late January 1976 it was set until August the same year as Jerry Garcia on guitar and vocals, John Kahn on bass, Keith Godchaux on piano and vocals and Ron Tutt on drums. And it was this talented collective who performed at the Paloma Theater in Encinitas, CA on February 21st 1976 for a show broadcast on FM radio along the west coast of the US, to the delight of those fans who were unable to get hold of a ticket. Featuring an eclectic mix of numbers including a few Grateful Dead classics, a couple of oddities and a vast array of exceptional covers, the complete show the band played that evening, lasting over 3 hours in total, is now available for the first time on vinyl across 3 volumes.
Genre: Rock
Released: 05/29/2020
Rock & Pop: Rock
Format: Vinyl