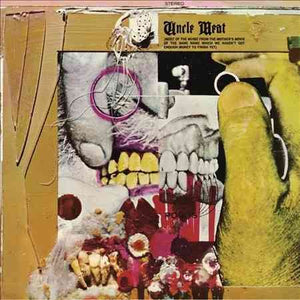 Frank Zappa UNCLE MEAT
Full performer name: Frank Zappa & The Mothers Of Invention.
Frank Zappa & The Mothers Of Invention: Frank Zappa (vocals, guitar, percussion); Roy Estrada (vocals, bass); Jimmy Carl Black (vocals, drums); Ray Collins, Nelcy Walker (vocals); Euclid James "Motorhead" Sherwood (tenor saxophone, tambourine); Bunk Gardner (piccolo, flute, clarinet, bass clarinet, soprano, alto & tenor saxophones, bassoon); Don Preston (piano); Ian Underwood (clarinet, flute, alto & baritone saxophones, piano, organ, harpsichord, celeste); Artie Tripp (vibraphone, marimba, xylophone, drums, tympani, wood blocks, bells, chimes); Ruth Komanoff (marimba).
Recorded from October 1967 to February 1968. Includes liner notes by Frank Zappa.
UNCLE MEAT was digitally remixed in 1987 with approximately 40 minutes of previously unreleased material from the original sessions.
Over the two-record set, Zappa manages to cover the entire spread of his interests. Masquerading as a movie in progress, it is a way of highlighting the struggle of trying to keep the band together against a pretty hostile, or worse, apathetic audience. The frustration of putting something out that is artistically brilliant has a particular significance, as music and film go hand in hand. The film dialogue is either hilarious or it will leave you cold. The former is the general consensus. Zappa was so far ahead that his earth life ended before we caught up with him. Weird but highly recommended.
Genre: Rock
RSD Release Date: n/a
Rock & Pop: Rock
Format: Vinyl
Released: 12/17/2013