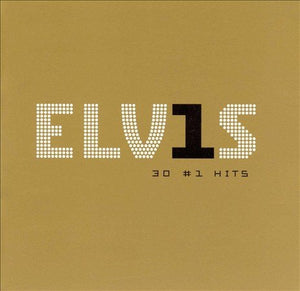 Elvis Presley Elvis 30 #1 Hits (180 Gram Vinyl) (2 Lp's)
Personnel includes: Elvis Presley (vocals); Gordon Stoker, Ben Speer, Brock Speer, Rad Robinson, Jon Dodson, Charles Prescott, Millie Kirham, Sherrill Nelson, Kathy Westmoreland, Myrna Smith; The Jordanaires; The Surfers; The Sweet Inspirations; The Imperials; J.D. Sumner & The Stamps.
Producers include: Steve Sholes, Chet Atkins, Chips Moman, Felton Jarvis, Elvis Presley.
Compilation producer: David Bendeth.
Includes liner notes Peter Guralnick and Ernst Mikael Jorgensen.
All tracks have been digitally remastered.
Commemorating the 25th anniversary of Elvis Presley's death, 30 #1 HITS presents a career-spanning serving of the King's chart-toppers.
Dating back to "Heartbreak Hotel" (which was inspired by a suicide note printed in the Miami Herald), most of these cuts have become indelibly etched into the fabric of pop culture and each has a unique story behind it. "Love Me Tender" has its origins in the Civil War ballad "Aura Lee," "It's Now Or Never" found Elvis Americanizing the Neapolitan ballad "O Sole Mio," and "Wooden Heart" likewise was converted from a German children's song.
This Memphis native's choice of artists to cover was equally intriguing and includes Hollywood legend Al Jolson ("Are You Lonesome Tonight?"), New Orleans soul shouter Smiley Lewis ("One Night"), blues great Big Mama Thornton ("Hound Dog"), and country titan Hank Snow ("[Now And Then There's] A Fool Such As I"). Further testimony of Presley's long-lasting appeal is the inclusion of the JXL Radio Edit Remix of "A Little Less Conversation," a UK #1 that not only enabled Elvis to have more chart-toppers than The Beatles, but also became a hit in a number of other countries including the United States.
Genre: Pop
RSD Release Date: n/a
Rock & Pop: Pop
Format: Vinyl
Released: 10/09/2015