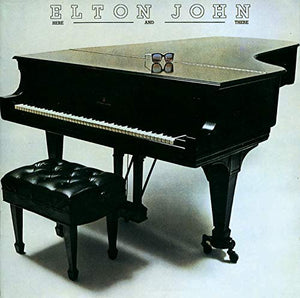 Elton John JOHN,ELTON - HERE AND THERE (LP)
Personnel: Elton John (vocals, piano); Lesley Duncan (vocals); John Lennon (vocals, guitar); Davey Johnstone (guitar, background vocals); Dee Murray (bass, background vocals); Nigel Olsson (drums, background vocals); Ray Cooper (congas, duck calls, percussion).
Engineers: Team Mobile (disc 1, all tracks); Fedco Truck Mobile (disc 2, all tracks).
Recorded live at The Royal Festival Hall, London, England on May 18, 1974 and Madison Square Garden, New York, New York on November 28, 1974. Includes liner notes by John Tobler and Paul Gambaccini.
Digitally remastered by Tony Cousins (Metropolis Mastering, London, England).
Elton John originally released 1975's HERE AND THERE to fulfill contractual obligations to Dick James Music, the label he started out on. Unlike most artists content to put out something sub-par, EJ instead released a pair of recent, exemplary live recordings. The CD reissue includes a number of outstanding additions. The original record split its tracks between two 1974 shows: London's Royal Festival Hall and Madison Garden. John began the London show by revisiting his earlier material, starting solo with "Skyline Pigeon" before being joined by the band for "Border Song."
The first batch of bonus material includes "Take Me To The Pilot," "Burn Down The Mission" and a rare duet with Lesley Duncan, the composer of "Love Song." The polite performance of the London material is in direct contrast to the maniacal energy of John's MSG show. Complementing the effervescent readings of Elton hits such as "Funeral For A Friend/Love Lies Bleeding" and "Rocket Man" is John Lennon's last live performance. This mini-part of the set (previously available as a separate EP) features the duo's collaboration "Whatever Gets You Through The Night" along with a pair of Beatles classics, "Lucy In The Sky With Diamonds" and "I Saw Her Standing There."
Genre: Pop
Rock & Pop: Pop
Format: Vinyl
RSD Release Date: DDD
Released: 11/09/2018