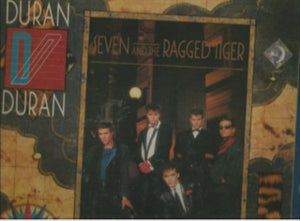 Duran Duran SEVEN & THE RAGGED TIGER
Duran Duran: Simon LeBon, Nick Rhodes, Andy Taylor, John Taylor, Roger Taylor.
Additional personnel: Andy Hamilton (saxophone); Raphael DeJesus, Mark Kennedy (percussion); Michelle Cobbs, B.J. Nelson (background vocals).
Recorded at Air Studios, Montserrat, West Indies.
By the release of 1983's SEVEN AND THE RAGGED TIGER, Duran Duran were genuine MTV-anointed superstars, which makes this set's somewhat more experimental vibe an impressive step. The band's original goal was to be a cross between Chic and the Sex Pistols, but most of SEVEN AND THE RAGGED TIGER explores a sort of glitter-tinged art-rock that occasionally resembles the first couple of albums by Sparks.
There were three enormous hits off this album: the jagged "Union of the Snake," the anthemic "New Moon On Monday," and "The Reflex," which was drastically remixed by Chic's Nile Rodgers for its single release. That version appears on DECADE and GREATEST, Duran Duran's two singles compilations. Critically drubbed upon release, SEVEN AND THE RAGGED TIGER holds up better than many of Duran Duran's other efforts.
Genre: Pop
RSD Release Date: n/a
Rock & Pop: Pop
Format: Vinyl
Released: 11/17/2015