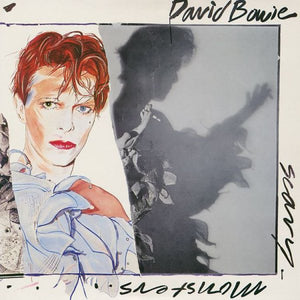 David Bowie SCARY MONSTERS (AND SUPER CREEPS)
Personnel: David Bowie (vocals, keyboards); Tony Visconti (acoustic guitar, background vocals); Pete Townshend, Robert Fripp, Carlos Alomar, Chuck Hammer (guitar); Roy Bittan (piano); Andy Clark (synthesizer); George Murray (bass); Dennis Davis (percussion); Lynn Maitland, Chris Porter, Michi Hirota (background vocals).
Recorded at The Power Station, New York, New York.
Fresh off his Berlin trilogy (LOW, HEROES, LODGER), David Bowie released SCARY MONSTERS, an album that continued the cool, detached, electronic-flavored sound he'd been experimenting with on the aforementioned records. Robert Fripp's distinctively angular guitar style contributes greatly to the resulting Kraftwerk-flavored funk of "Fashion" and the jittery paranoia of the title track. Elsewhere, Bowie updates the saga of Major Tom with "Ashes to Ashes" and turns to Tom Verlaine for the new wave nihilism of "Kingdom Come" which also features Fripp on guitar.
Robert Fripp was far from the only great guest invited to play on SCARY MONSTERS. Pete Townshend's swirling guitar on "Because You're Young" made it an underrated classic in Bowie's canon. SCARY MONSTERS proved to be David Bowie's last musical effort for a while as he spent the next three years pursuing a career in acting before returning to the studio in 1983 to record LET'S DANCE.
Genre: Rock
Rock & Pop: Rock
Format: Vinyl
RSD Release Date: DDD
Released: 02/23/2018