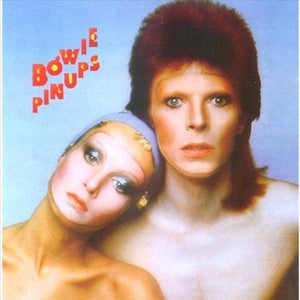 David Bowie PINUPS
PIN UPS served as a sort of "how to" guide to David Bowie's career. This all-covers album shed light on his ability to adopt personas and emulate musical genres with amazing speed and diversity. It also showed that Bowie was anticipating a different musical climate for the rest of the decade, signifying a change from what was admired during the 1960s.
The psychedelic overtones of Pink Floyd's "See Emily Play" and the garage rock cynicism of the Easybeats' "Friday On My Mind" perfectly display Bowie's ear for melody and eye for pop-culture posturing. He even tips a hat to his more established influences. The Kinks' "Where Have All The Good Times Gone" sparks his interest as a memory-soaked ballad (a Ray Davies specialty), and with The Who's "Anyway, Anyhow, Anywhere" Bowie admits to not having invented the rock 'n' roll ego.
PIN UPS served another suitable purpose for the chameleonic performer, down-playing his other-worldly image by betraying his influences. By presenting Bowie as an actual fan--and not just an image/style manipulator--the album portrayed the singer in a different light, allowing him to loosen up his approach to performing and to step outside the multiple characters he had created for himself.
Genre: Rock
RSD Release Date: n/a
Released: 02/26/2016
Rock & Pop: Rock
Format: Vinyl