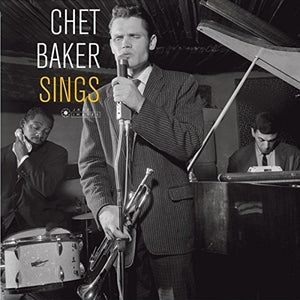 Chet Baker Sings
Personnel: Chet Baker (vocals, trumpet); Russ Freeman (piano, celeste); James Bond, Carson Smith (bass); Peter Littman, Lawrence Marable, Bob Neel (drums).
Recorded at the Forum Theatre, Los Angeles, California on July 23 & 30, 1956; Capitol Studios, Hollywood, California on February 15, 1954. Includes liner notes by Richard Brock and Gerlad Heard.
Few musicians were such a double threat as Chet Baker; he could blow a cool trumpet, and croon a lazy ballad or a bouncing standard with the best of them. His butter-smooth voice is featured here on his first session for Riverside, CHET BAKER SINGS IT COULD HAPPEN TO YOU. Of course, the great old chestnut in the title is not the only gem contained herein--Baker also swings and sings such great Rogers and Hart songs as "Do It the Hard Way," My Heart Stood Still," and "Dancing on the Ceiling."
Hearing the combination of Baker's lazy West Coast swing and the driving push of his East Coast sidemen on uptempo numbers like "You're Driving Me Crazy" or "My Heart Stood Still" is an undoubted treat, but it's smoky ballads such as "I'm Old Fashioned" and the swaying title track that win the most points. For lovers of great old songs sung with feeling, CHET BAKER SINGS IT COULD HAPPEN TO YOU is hard to beat.
Released: 10/07/2016
Rock & Pop: Pop
Format: Vinyl
RSD Release Date: DDD
Genre: Jazz