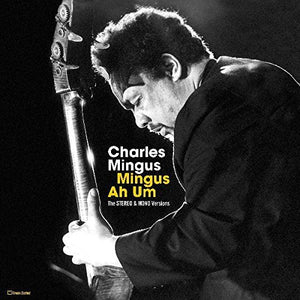 Charles Mingus Mingus Ah Um: Stereo & Mono Versions
This remastered edition of MINGUS AH UM features six of the original tracks in unedited form and three bonus tracks.
Personnel: Charles Mingus (piano, bass); John Handy (alto & tenor saxophones, clarinet); Shafi Hadi (alto & tenor saxophones); Booker Ervin (tenor saxophone); Jimmy Knepper, Willie Dennis (trombone); Horace Parlan (piano); Dannie Richmond (drums).
Producer: Teo Macero.
Reissue producer: Michael Cuscuna.
Recorded at 30th Street Studio, New York, New York on May 5 & 12, 1959. Includes liner notes by Diane Dorr-Dorynek and Brian Priestley.
Digitally remastered using 20-bit technology by Mark Wilder and Rob Schwarz (Sony Music Studios, New York, New York).
One of the five essential Mingus albums to own, and even if you are not a jazz fan this is still worthy of being in any comprehensive collection. The opening track, "Better Git It In Your Soul," rushes along at a furious pace and then there is a wonderful change of tempo into an a cappella and handclap pause. It rolls on, of course, but the nature of this track reflects the nature of Mingus who never failed to experiment (even though sometimes he failed). The personnel comprises John Handy III, Shafi Hadi and Booker Ervin (saxophones), Horace Parlan Jr (piano), Willie Dennis and James Knepper (trombones) and Charles Richmond (drums). Mingus whoops, shouts and holds it all together and then turns the pace majestically on numbers such as "Goodbye Pork Pie Hat.
Rock & Pop: Pop
Format: Vinyl
RSD Release Date: DDD
Genre: Jazz
Released: 4/20/2018