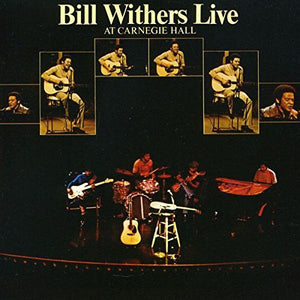 Bill Withers Live At Carnegie Hall
Recorded live at Carnegie Hall, New York City, New York in October 1972. Includes liner notes by Clayton Riley and Bill Withers.
All tracks have been digitally remastered.
Recorded at the peak of Bill Withers's popularity, LIVE AT CARNEGIE HALL also finds the 1970s R&B giant at the top of his game. The way Withers and his band dig into the angular, hypnotic groove of "Use Me" is emblematic of the combination of funky intensity and laid-back soul that typifies both his music and this concert document.
Unfortunately, somewhere along the way, someone had the misbegotten notion of overdubbing unnecessary strings onto many of the songs here, keeping the listener one step removed from fully experiencing the event as it occurred. However, that still doesn't obscure the world-beating power of both the band's supple groove and Withers's singular soulfulness. Obviously a man who lives his songs, Withers is just as entertaining when delivering a monologue about his late grandmother as he is in performing the nostalgic "Grandma's Hands." And on "World Keeps Going Around" and the medley of "Harlem/Cold Baloney," his gang of stellar musicians gets an extended workout, laying into the music for all its worth, and expanding on the big footprint Withers had already made with his studio work.
RSD Release Date: n/a
Released: 06/26/12
Format: Vinyl
Genre: R&B