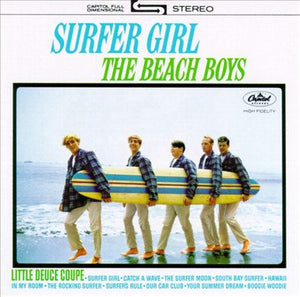 Beach Boys Surfer Girl
Beach Boys include: Mike Love, Carl Wilson, Al Jardine, Brian Wilson, Dennis Wilson (vocals).
The Beach Boys' third album, SURFER GIRL finds Brian Wilson & Company hitting their stride, mastering the craft of beautiful musical arrangement within a straightforward pop format. The album is best known for its title track, a luscious pop gem that features the bands trademark harmonies in one of their richest and most evocative settings--the song's simple, surf-related lyric belies its unbelievably lush vocal composition. It's not the album's only classic, however--"Little Deuce Coupe" hits the other end of the Beach Boys' spectrum, with its easy-going groove and boastful lyrics.
The proceedings quickly dip back into the melancholy--"In My Room" is a seamless work of introspection, a template for bedsitter pop. "Hawaii" is a faster shuffle whose playful melody explores the impressive upper register of the Boys' prodigious vocal gifts, woven, as always, around equally tight instrumental backing. Rounded out by the rollicking instrumental "Boogie Woodie," the richly varied and expertly constructed SURFER GIRL catches the Beach Boys making pop history, and having a ball while they're at it.
Genre: Pop
Released: 10/07/2016
RSD Release Date: n/a
Rock & Pop: Pop
Format: Vinyl