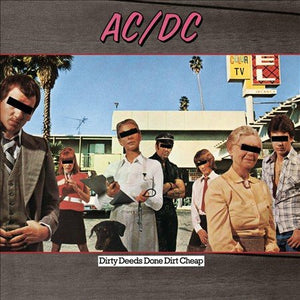 AC/DC DIRTY DEEDS DONE DIRT CHEAP
This is a Hyper CD, which contains regular audio tracks and also provides a link to the artist's website with the help of a web browser.
AC/DC: Bon Scott (vocals); Angus Young, Malcolm Young (guitar); Mark Evans (bass); Phil Rudd (drums).
Recorded in 1976. Originally released as Atlantic (16033). Includes liner notes by David Wild.
All tracks have been digitally remastered.
Although it wasn't released stateside until '81, DIRTY DEEDS DONE DIRT CHEAP is an Australian compilation recorded in the mid-70's. By the time of its U.S. release, singer Bon Scott had already died of alcohol poisoning and the band had emerged from the tragedy with new singer Brian Johnson and the stunning BACK IN BLACK. This album then, perhaps inadvertently, serves as an epitaph for the late, tattoo-emblazoned singer. And there is no more fitting eulogy than the title track, which captures Scott in all his raunchy glory.
Full of ill will, Scott snakes his way through a nasty tale of revenge. He's only too happy to provide TNT, concrete, cyanide, whatever it takes really, to get the job done. As he snarls, growls, and finally squeals, "high voltage!" Scott is immortalized in complete reptilian glee. Though the title tracks alone makes the album essential; there are other significant merits. The utterly tasteless hilarity of "Big Balls" is a not-so-subtle pun Beavis and Butthead would undoubtedly have worshipped. "Ride On" is a toned down blouse groove that is complete out of step with AC/DC's usual onslaught. All in all, DIRTY DEEDS is a fine collection that shows these Australian bad boys doing what they do best.
RSD Release Date: n/a
Released: 10/14/2003
Genre: Heavy Metal
Rock & Pop: Rock
Format: Vinyl